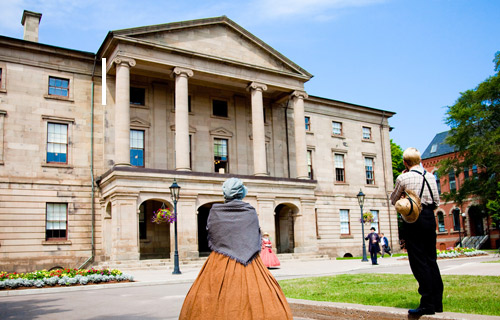 01 Oct

Experience Charlottetown with Fall Events

Music
Right off the top, let me tell you that if you like Country Music and you're going to be in Charlottetown this Wednesday night (October 3), you should try to get tickets to Brett Kissel's show at the Homburg Theatre, which, by the way, is only a 7-minute walk from the Charlottetown Inn & Conference Centre. I had the pleasure of seeing Brett perform at Canadian Music Week a few years ago and he blew my mind. As an entertainer he reminds me of a young Garth Brooks. So, go see him if you can.

While we're on the topic of music, I may be dating myself, but I was a big Neil Diamond fan in my youth. If you have plans to be in PEI next week but will miss the Brett Kissel Concert, you may want to consider Jay White's Neil Diamond tribute show "The Sweet Caroline Tour." The show takes place October 6 also at the Homburg Theatre in the Confederation Centre of the Arts complex.

Visit the Confederation Centre of the Arts website to find out about many other great shows this Fall and Winter

For Runners (and Walkers)
In a previous post I told you about the Run for the Cure in Charlottetown. This time let's up the ante. If you're a serious runner, check out the Prince Edward Island Marathon Route. It's beautiful. Mind you, if a marathon is too much for you, you can participate in the ½ marathon, the 10k or the 5K races. As opposed to other marathons in the country, the PEI marathon offers walk versions of the event so that just about everyone can participate. This year the PEI Marathon supports the Canadian Mental Health Association, so you not only do something for your own health, but you help others improve theirs.

For the Little Ones
If you have little kids, you probably know about Paw Patrol, one of today's most successful television shows for children. I happen to know some of the people involved in the creation of the show so I'm very familiar with Marshall, Chase and Skye, the cutest pups on TV. So, don't let your children find out that Paw Patrol was in town and you didn't take to see them. Get tickets for the November 3 show at the East Link Centre before it's sold out. The East Link Centre is just a 13-minute walk from the Charlottetown Inn & Conference Centre.

Get Ready for Christmas
Get into the Christmas Spirit the weekend of November 23 to 25 in Charlottetown. This is the weekend when the Victorian Christmas Festival and the Christmas Parade take place. If you don't live in the city and plan to attend, book your accommodations soon to avoid disappointment. The Christmas Parade route is not too far (5 to 15-minute walk depending on the spot) from the Charlottetown Inn & Conference Centre.

Have you finished your Christmas shopping already? Few people have. If this is your case, you may want to wait until the end of November, so you can attend the 5th Annual Christmas Fair at the East Link Centre. It runs from November 30 to December 1. It's a terrific market where you can find premier art, craft and gift exhibitors with many original goodies for the Holidays.

Recap. Fun events in Charlottetown this Fall and early Winter.
October
• Porktoberfest
• Brett Kissel, headed by Dan Davidson (Country Music) – October 3
• The Ultimate Neil Diamond Tribute Show – October 6
• PEI Marathon October – 12 to 14

November
• Paw Patrol Live – November 3
• Classic Albums Live, Led Zepplin November 3
• Early Bird Hockey Tournament November 15-18
• 5th Annual Christmas Fair November 30 – December 1
• Victorian Christmas Festival…. November 23 – Nov 25
• Christmas Parade November 24

Now, if you are visiting Charlottetown for any of these events we would love to host you. Stay with us and enjoy a free hot breakfast and great hospitality in one of our hotel rooms.